Life's Inside Track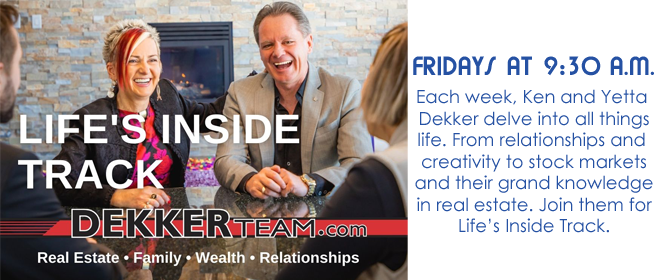 For questions or to schedule an appointment with the Dekker Team, e-mail This email address is being protected from spambots. You need JavaScript enabled to view it. or call 613-860-4663. Visit dekkerteam.com for more information.
There is much chatter and everyone has an opinion about whether it is wise to invest in real estate. As your guide and advocate, I'll step wholly into the debate. Suzan, like most first time real estate investors, already owns a home, and knows there are many options as to what to do with the house they already own. They don't know which option is best, so the questions usually start to flood their mind: Should I keep it and rent it out? Should I sell my house and buy a multi-family home and live there too? Maybe sell the house I have and buy an investment property, and one for me to live in too? With so many aspects to consider, we invited a client, Suzan, who is currently in the middle of making this decision, to ask her questions on Life's Inside Track so we could all learn together and help her decide what her best option is. Trusting you will discover what your best option is too.
Add a comment
Have you ever noticed that what you focus on so often shows up in your life? Whether it is my worrying about the thing I don't want, or the thing I do, somehow my attitudes and actions line up to create that very thing I am thinking about. The really fun part is we can shift what we think about, and as a result change the parts of our lives that we would rather not experience. What you'll learn is how to move into a greater state of harmony, joy and peace by simply choosing what you will think on. The very thing we fix our mind on, fixes itself into our life.
Add a comment
Ken and Yetta Dekker explain how the commitment to the smallest amount of time focused on moving your body and or expanding your mind can strengthen you and move you further and faster than you can imagine. The distance between being Fully Alive or Half Dead is much less than it seems!
Add a comment
The steady and consistent approach seems to be the answer for investing, whether it is about the approach to maintenance, rent increases, or simply setting aside money for the sole purpose of growing your wealth. Have you ever given your money a job so that you'd didn't have to work quite so hard day in and day out? Have you every heard the big win story followed by the big loss story? It can be simple and straight forward in the journey of wealth growth.
Add a comment
Have you ever noticed that flourishing in your relationships makes or breaks one's whole life? Ken and Yetta discuss why it is the smallest of gestures either done or left undone that shows the true health of a relationship. Expand your relationships and love by knowing which things said or unsaid make the biggest impact.
Add a comment