Life's Inside Track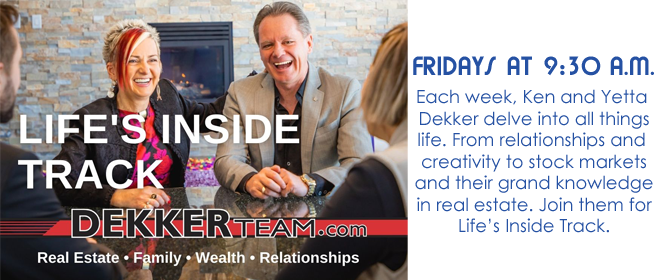 For questions or to schedule an appointment with the Dekker Team, e-mail This email address is being protected from spambots. You need JavaScript enabled to view it. or call 613-860-4663. Visit dekkerteam.com for more information.
Is it time for a cottage, lakehouse or ski chalet? The considerations, in addition to the financial conversation, are vast and will require significant deliberations and likely some healthy debate. Listen to find an insight on either side of the fence that you had not considered before. Then do the courageous thing and add to the conversation your own pros and cons to the list. If you have been asking yourself "do I really want a second home or a new home on the water," this episode is certain to shed some light on the reasons to take the waterfront plunge or not. If it is time to end the on and on it goes debate that has been taking place for you in public and behind closed doors you are encouraged to listen, learn and laugh along with us. As always, if it feels like it's the right time to further open up the conversation have the Dekker Team come alongside you to , you can reach us at This email address is being protected from spambots. You need JavaScript enabled to view it., and we'd be delighted to ask some great questions that will help you to get to your best answer. Making the decision about whether a cottage, lakehouse, ski chalet or not will impact your life and family each and every day. It may be the time to settle the debate and make a courageous and certain decision. We are honoured to be your advocates on your real estate and wealth journey.
Add a comment
Talking about fueling your body to live your best life. We explore the body's relationship with water, food, and calories. Exploring the effects of fasting and how to incorporate it into your life with prayer to improve your health and nourish your body.
Add a comment
Entrepreneurship allows for freedom to be your own boss, make your own schedule, and fully express your creativity. But there are certainly are challenges as well. We will explore the ups and downs and pros and conc of entrepreneurship as we have experienced over the past 31+ years.
Add a comment
Talking about commitment and how to stay true to your word. Ensuring you are clear with the details of your commitment and that there is depth and meaning to what you say you will do. Exploring how commitment reflects your integrity and the importance of honouring commitments you make to yourself, even if no one else knows about them. We also talk about how to recommit once you have broken a commitment and how you can redeem your integrity.
Add a comment
Exploring how affordability will affect your real estate goals: What needs to be considered when one is trying to decipher how much they can afford? There are many factors to consider and they can accumulate quickly. We talk about the effect of the supply and demand of the market on affordability, and how we can set realistic expectations that will align with our goals.
Add a comment