Life's Inside Track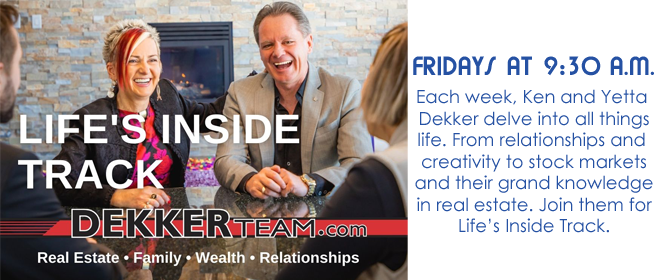 For questions or to schedule an appointment with the Dekker Team, e-mail This email address is being protected from spambots. You need JavaScript enabled to view it. or call 613-860-4663. Visit dekkerteam.com for more information.
Sharing our personal story with our faith and how we changed our lives around from an overall mess, to finding peace and harmony in all aspects of our life. Not to say perfection has been achieved, but certainly more peace. How wonder and community influenced us to turn to Christ and rely on our faith. We share how your mess can become your message.
Add a comment
We are sharing our experiences with mobility issues and how we changed our lives. We share how important stretching, posture, and continuous movement is. We talk about avoiding injuries, increasing bone density, and increasing our overall fitness. Sharing our best recipe for cardi and movement to keep us mentally and physically fit.
Add a comment
Exploring what equity means in financial terms and the many ways to build equity. We explain how equity can be gained by a down payment, buying the right property at the right time, sweat equity, amortization, and more. We talk about home equity loans and consolidation of debts. We will also explore how to benefit the most from the equity you have.
Add a comment
Talking about respect and nurture in a relationship and the differences between partners. We delve into the concept of unconditional respect and how that can improve relationships. Providing many examples of relationships that have flourished with a better understanding of respect, love, and listening skills.
Add a comment
With homeschooling, working from home, having to stay at home more often, some people may be feeling like their home just isn't working for them anymore. There is an uncertainty among homeowners feeling this way and feeling like there is nothing on the market to buy right now. Using our extensive experience we are able to help people navigate these waters and showing them how to thrive in a seller's market.
Add a comment