Life's Inside Track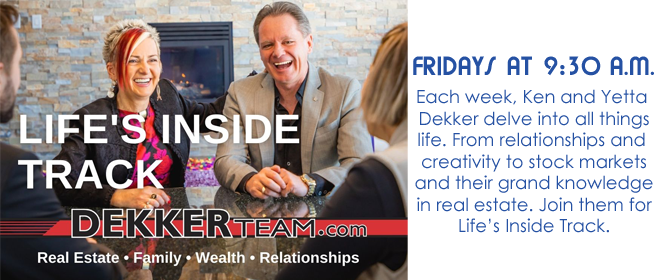 For questions or to schedule an appointment with the Dekker Team, e-mail This email address is being protected from spambots. You need JavaScript enabled to view it. or call 613-860-4663. Visit dekkerteam.com for more information.
It is near impossible to not communicate especially in a world that is driven by technology, cell phones and smartphones. We are caught in the trap of being listened to all the time. Ponder that reality too long and we can really get freaked out. Even before the explosion of a culture of technology wherein our cell phones listened intently to us our CELLS were listening to our every thought, our every nuisance, our every habit, our every word and even our every emotion.
Add a comment
Maybe it is because we are real estate brokers, owners of a real estate brokerage, and real estate investors. Or maybe it's because we've been helping clients sell, buy and invest in real estate for almost 35 years. Or maybe it's because when you hear about investing, you think about investing your money wisely. Whatever the reason, it is common that when we talk about the Investor Journey, everyone thinks we are only talking about financial wealth. In this episode we'll break that myth and fallacy wide open.
Add a comment
It seems that when we hear the word legacy, we think specifically about family legacy, and about what we leave behind when we are gone from the earth. Add the word generation, and now it is even more likely we think about family. Money is likely what comes to mind first. In this episode we'll reveal that it is so much bigger, so much more, and so essential to consider now. It is about every word, every act, and every mood that impacts another to become our generational legacy.
Add a comment
Let's be real. The baseline for any service we require is that the service provider be competent, knowledgeable, and friendly. If we allow that to be enough, we risk having a less than acceptable journey, and maybe even not achieve our desired outcome. In this episode, we'll consider what we all need in addition to the baseline. When we don't get it, we risk not moving forward with our dream because the experience was not what was needed.
Add a comment
Whether buying a home, selling a home, investing or being in a relationship with another, emotions have the ability to create havoc or bliss. In this episode, we'll unpack how we can use our emotions to guide us appropriately. We either move forward to get what we are meant to receive, or we let our emotions spiral and we lose out on what was meant for us.
Add a comment