The Wednesday Bookmark
Details

Category: Authors
Published:

Monday, 26 April 2010 12:51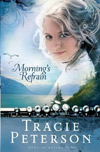 As the past collides with a tenuous future the battle for Phoebe's heart is only the start of the challenges that face them... Ali's featured book on this week's Wednesday Bookmark, brought to you by
Salem Storehouse
, is "Morning's Refrain" by bestselling author Tracie Peterson.

20% off!
Order your copy at Salem Storehouse (1558 Merivale Road, 613-727-0203 and 839 Shefford Rd)
Offer only valid for one week from the interview date.
Bestselling author Tracie Peterson has written more than seventy novels. Authentic historical details, as well as adventure and romance, highlight her writing.
As dark family secrets threaten the tranquillity of the life he's come to love, Dalton Lindquist must make difficult choices about the future. To complicate matters, Phoebe Robbins falls into his life quite literally when Dalton rescues her after she tumbles overboard in the Sitka Harbour. He quickly loses his heart. But Dalton is not the only one who decides to seek Phoebe's attention - his best friend, Yuri, decides to court her when Dalton must travel from Sitka. But when Dalton realizes the depth of his love for Phoebe and returns, the two friends find that their battle for Phoebe's admiration is only the start of the problems that face them.