The Wednesday Bookmark
Details

Category: Authors
Published:

Monday, 26 April 2010 13:05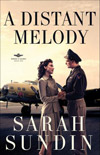 Book 1 in the Wings of Glory series, "A Distant Melody" is an exciting and tender story of love, courage, and sacrifice during World War II.
Click here to listen to Ali's interview with Sarah Sundin, author of "A Distant Melody", on this week's Wednesday Bookmark, brought to you by Salem Storehouse!

20% off!
Order your copy at

Salem Storehouse

 (1558 Merivale Road, 613-727-0203 or 839 Shefford Rd)
Offer only valid for one week from the interview date.
Will a chance meeting in a time of war change her life forever?
 Never pretty enough to please her gorgeous mother, Allie will do anything to gain her approval--even marry a man she doesn't love. While Allie has nearly resigned herself to that fate, Lt. Walter Novak--fearless in the cockpit but hopeless with women--takes his last furlough at home in California before being shipped overseas.
Walt and Allie meet and begin a correspondence that will change their lives. As letters fly between Walt's muddy bomber base in England and Allie's mansion in an orange grove, their friendship binds them together. But can they untangle the secrets, commitments, and expectations that keep them apart?