The Wednesday Bookmark
Details

Category: Authors
Published:

Wednesday, 03 March 2010 05:25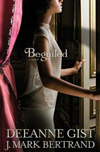 In the shadows of Charleston someone is watching her...
Don't miss Ali's interview with Deeanne Gist, co-author of "Beguiled", at 4:30pm on this week's Wednesday Bookmark, brought to you by Salem Storehouse!

20% off!
Order your copy at

Salem Storehouse

(1558 Merivale Road, 613-727-0203)
Offer only valid for one week from the interview date.
Rylee Monroe, a dogwalker in Charleston's wealthiest neighborhood, never feared the streets at night. But now a thief is terrorizing the area and worse, someone seems to be targeting her.
Reporter Logan Woods is covering the break-ins with the hope of publishing them as a true-crime book. The more he digs, the more he realizes this beguiling dogwalker seems to be at the center of everything.
As danger draws ever closer, Logan must choose: Chase the girl, the story, or plunge into the shadows after the villain who threatens everything?
Co-written with J. Mark Bertrand