The Wednesday Bookmark
Details

Category: Authors
Published:

Tuesday, 14 March 2017 06:00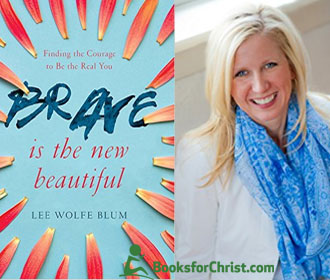 How can young women stop comparing themselves to others and become who God wants them to be? Click here for Care Baldwin's interview with Lee Wolfe Blum on this week's Youth Wednesday Bookmark interview brought to you by BooksforChrist.com. (Aired March 15th, 2017)

Purchase online at BooksforChrist.com.
In today's 'be everything to everybody' society, women find the idea of being brave and beautiful a foreign thought when they are struggling just to survive. Blum shares her stories, as well as those of many women whom she admires, to encourage readers to not compete but to become who God wants them to be.
Blum is a mental health practitioner who works with patients facing eating disorders and addictions. Her passion of hope and freedom is shown throughout this book as she reminds readers that they aren't necessarily here on earth to be happy but to honor God and become more Christlike.
The heartwarming stories of strength and bravery are excellent for a personal study as well as for a group study. Additional ideas are found in the reflection questions and thoughts at the end of each chapter and the thorough notes section at the end of the book.
About the Author
Lee Wolfe Blum was once an aspiring actress hoping to make it to Broadway, many twists and turns led her down a different path and now she walks through the trenches with patients as a health Mental Health Practitioner with patients struggling with Eating Disorders and Addictions. She is a passionate speaker and author helping people find hope and freedom. She lives in Minnesota with her husband and three boys in what she calls "The Frat House".
leewolfeblum.com
facebook.com/LeeBlumAuthor
twitter.com/BlumLee