The Wednesday Bookmark
Details

Category: Authors
Published:

Tuesday, 14 March 2017 06:00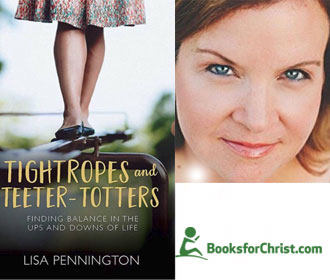 For every woman who wonders if her satisfaction in life will ever match her dreams, Pennington has real-life answers full of hope and humor. Read more for Brock Tozer's interview with Lisa Pennington on this week's Wednesday Bookmark brought to you byBooksforChrist.com. Aired March 15th, 2017

Purchase online at BooksforChrist.com.
Lisa Pennington knows how to get up after losing her balance, even with a full house, a not-so-full bank account, and never enough energy. In her latest book, she offers readers:
Strategies for finding balance in marriage, motherhood, and bad moods
Playful yet biblically based tips for turning hard days around
Inspiration for shaping obstacles into opportunities
Ways to respond to irritations with gratitude
Enthusiastic encouragement for living out God's purpose.
ABOUT THE AUTHOR
Lisa Pennington lives in the Texas Hill Country with her husband of 27 years and their 9 children. She homeschools while trying to figure out how to run their little farm with no real knowledge of how to care for goats or grow a garden, turning her life into a comedy of errors. When she has a few extra minutes, she loves to help other women find their identity in Christ and have the courage to live their calling. She blogs about her family life at The Pennington Point, and runs an etsy shop with her daughters, Shop 24, . When people ask how she does it all she replies, "I'm not sure, but I know I need a nap!"
thepenningtonpoint.com
facebook.com/thepenningtonpoint
instagram.com/penningtonpoint
twitter.com/PenningtonPoint