The Wednesday Bookmark
Details

Category: Authors
Published:

Tuesday, 07 March 2017 06:00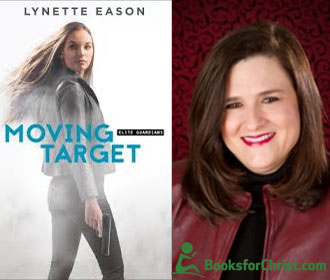 Gripping, twisted, and will keep readers guessing until the end. "Moving Target" is book 3 in the "Elite Guardians" series featuring a team of female bodyguards. Read more for Care Baldwin's interview with award-winning author Lynette Eason on this week's Youth Wednesday Bookmark interview brought to you by BooksforChrist.com! (Aired March 8th, 2017)
Purchase online at BooksforChrist.com.
When Maddy McKay and Quinn Holcombe don't show up for Quinn's surprise birthday party, his friends know that something is very wrong. Their search turns up little beyond evidence that Quinn and Maddy just decided to take off for a long overdue vacation. But it soon becomes apparent that they did not leave of their own accord.
Maddy awakens in a cement room with no idea where she is. But it's not long before she realizes she's in the clutches of a madman exacting revenge by hunting. His prey of choice? Humans. Now Maddy and Quinn must run for their lives, hoping to find their killer before the next game begins. Because if they don't win this game, they die.
Fast, furious, and flirty, Lynette Eason's relentless suspense barely gives her readers time to catch their breath in this third thrilling installment of the Elite Guardians series.
About the Author
Award-winning, best-selling author, Lynette Eason has written/contracted thirty-six books since 2007. She writes for Harlequin's Love Inspired Suspense line and for Revell, a division of Baker Publishing Group. Her books have hit the CBA and ECPA bestseller lists. Lynette has been teaching for more than ten years and is very happy to make the transition from teaching school to teaching writing whenever the opportunity presents. She is married, has two children, and lives in Greenville, SC.
lynetteeason.com
twitter.com/lynetteeason
facebook.com/lynette.eason