The Wednesday Bookmark
Details

Category: Authors
Published:

Wednesday, 24 August 2022 06:00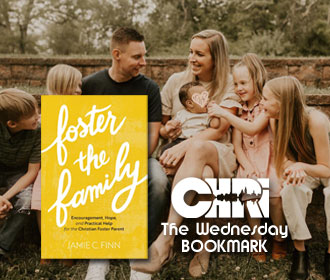 Are you a foster parent, or looking to foster a child? It's not an easy road, but with encouragement from God's Word and by seeing the experience through a biblical lens, you can navigate this journey. Replay Brock's Wednesday Bookmark interview with Jamie C. Finn.
Purchase Foster The Family, here.
As an Amazon Associate, CHRI earns from qualifying purchases.
Book Description:
With the compassion and insight of a fellow foster parent, Jamie C. Finn helps you see your struggles through the lens of the gospel, bringing biblical truths to bear on your unique everyday realities. In these short, easy-to-read chapters, you'll find honest, personal stories and practical lessons that provide encouragement and direction from God's Word as you walk the journey of foster parenting.
About the Author:
Jamie C. Finn is the executive director of Foster the Family, the host of the Real Mom podcast, the founder and owner of Goods and Better, and a sought-after speaker for retreats, conferences, and events for foster and adoptive parents. Her popular social media accounts offer a glimpse into the real life of a foster parent and provide encouragement to thousands of foster parents. At any given moment, Jamie is a mother to four to six children, including her two biological children and two children adopted through foster care. She lives in Sicklerville, New Jersey, with her husband, Alan.
Connect: