The Wednesday Bookmark
Details

Category: Authors
Published:

Monday, 08 August 2022 06:00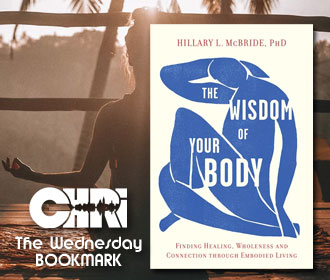 Your relationship with your body can impact the quality of your whole life. Replay Brock's Wednesday Bookmark interview with Hillary L. McBride, and learn how you can get on path towards health and true acceptance of your body.
Purchase The Wisdom of Your Body, here.
As an Amazon Associate, CHRI earns from qualifying purchases.
Book Description:
From the host of the hit CBC podcast Other People's Problems comes an invitation to unlearn the lies about your body that make you feel less-than, and to learn to love the home where your life happens.
In The Wisdom of Your Body, clinical therapist and award-winning researcher Dr. Hillary McBride offers a pathway from disconnection to embodied living by making peace with the living, breathing story of who you are. Packed with illuminating research and stories from her work and her deeply personal journey of healing from a life-threatening eating disorder, a car wreck EMTs thought she wouldn't walk away from and chronic pain, McBride offers meaningful insights about why our relationship with our bodies matters for the quality of our whole lives. A specialist in embodiment practices, McBride shares truths and tools to help you embrace the whole of yourself and, in turn, experience your life to the fullest.
This book will show you:
· How to unlearn the lies about your body that hold you back from the life you were meant to live
· Practices for reclaiming your body—and your life—from stress, trauma, appearance ideals and the expectations of others
· How to access the healing that is written into your DNA
· Tools for regulating your emotions through physical awareness
For anyone who has ever felt unsafe, unloved or insufficient in their own skin, McBride offers a better path toward health and true acceptance. This is an invitation to live a better story with your body and to come home to the gift of yourself and the wholeness that has been there all along.
About the Author:
Hillary L. McBride, PhD, is the host of the CBC podcast Other People's Problems. She is a researcher, therapist and counsellor with a private practice in Vancouver. McBride's clinical and academic work has been recognized by the American Psychological Association and the Canadian Psychological Association, and in 2017 she was awarded the international Young Investigator Award for her research and clinical work in human sexuality. In 2018 she was awarded the Government of Canada's Doctoral Research Fellowship through the Social Sciences and Humanities Research Council for her innovative and promising research, and she has been named an outstanding scholar and clinician by the University of British Columbia.
Connect: