The Wednesday Bookmark
Details

Category: Authors
Published:

Monday, 18 October 2021 06:00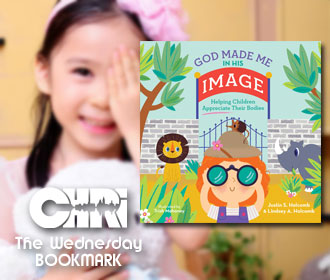 Raise your children up with a positive body image and help them understand that they were made uniquely, in the image of God. Replay Care's Wednesday Bookmark interview with Justin Holcomb.
Purchase God Made Me in His Image, here.

As an Amazon Associate, CHRI earns from qualifying purchases.
Book Description: One day, a group of students and their teacher travel to a zoo safari park to learn all about the different animals. During a fun jeep ride around the park, the guide shares fascinating information about lions, rhinoceroses, elephants, buffalo, and more, pointing out distinctive characteristics about each animal's body and how those qualities make the animals special. Along the way, the children start to notice how their differences in appearance make each of them special too. Their teacher helps them reflect on their own body image and teaches them how they were created uniquely in God's image.
Because bodies can be confusing and sometimes embarrassing to children, Justin and Lindsey Holcomb wrote God Made Me in His Image for parents to use in helping their kids understand how God made their bodies in his image. Parents and caregivers can use this powerful book, illustrated by Trish Mahoney, to help children understand their feelings about their bodies and help them accept them by highlighting God's loving design of our individual physical characteristics.
God Made Me in His Image is part of the God Made Me series which equips parents to have important, impactful conversations with their children, helping them to grow in understanding of God, themselves, and others. Each book in the series contains a special section just for parents and caregivers that provides biblical guidance and offers additional information and resources for talking about the topic addressed in the story.
About the Author:
Justin Holcomb is an Episcopal priest and a theology professor at Reformed Theological Seminary and Gordon-Conwell Theological Seminary. He is author with his wife, Lindsey, of God Made All of Me, Is It My Fault?, and Rid of My Disgrace: Hope and Healing for Victims of Sexual Assault. Justin also has written or edited numerous other books on historical theology and biblical studies.
Connect:
thegospelcoalition.org/justin-holcomb