The Wednesday Bookmark
Details

Category: Authors
Published:

Tuesday, 12 October 2021 06:00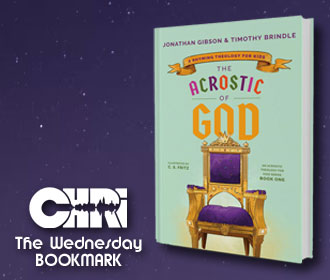 Help your children absorb and memorize the eternal truth about God with an alphabetical list of the attributes and characteristics of our Heavenly Father. Replay Care's Wednesday Bookmark interview with Timothy Brindle.
Purchase The Acrostic of God, here.
Purchase The Acrostic of God rap album CD, here!
As an Amazon Associate, CHRI earns from qualifying purchases.
Book Description: "Let's read the Acrostic of God together
to help you to make him your awesome treasure.
We'll read it, rap it, or sing it―it's fun!
Till Jesus comes back and his kingdom has come. . .
He's the Alpha and Omega, from A to Z;
his beauty and his glory we were made to see."
The Acrostic of God is a joy to read and reread, and a wonderful tool to help kids absorb eternal truth about God.
By giving children an alphabetical list of the titles and attributes of God written with a rhyming beat, Jonathan Gibson and Timothy Brindle make The Acrostic of God fun to read and easy to memorize. Each characteristic, A to Z, weaves together a beautiful picture of God.
Using the alphabet to teach about God has a rich history in the Bible, especially in the Psalms and Lamentations. Several of the psalms―notably Psalm 119―begin with letters of the Hebrew alphabet, forming an acrostic that spells out the entire alphabet.
The authors make learning theology fun and effortless. Their book shows God as he is, not "just to know about him more in our brains, but to know him as the God of glory who reigns."
Illustrated by C. S. Fritz, The Acrostic of God is the first in the Acrostic Theology for Kids series that introduces children ages five to eleven to systematic theology uniquely on their age level.
About the Author:
Timothy Brindle has been making Christ-centered hip-hop since 2003 in which he uses lyricism to expound the truth of Jesus in Scripture. His most recently released album and its corresponding book, The Unfolding, was written to show how the entire Bible is God's one unfolding plan of redemption in Christ.
Formerly a public school teacher in the School District of Philadelphia and a Social Worker in North Philadelphia, Timothy Brindle sensed the call to gospel ministry and completed the Masters of Divinity program at Westminster Theological Seminary in May 2016, and the Master of Theology program in Old Testament in May 2020. He is currently in the PhD program in Old Testament, while serving full-time as the Senior Advancement Officer at Westminster. In their 16 years of marriage, Timothy and his wife Floriana have been blessed with 9 children, including 1 who has gone ahead to glory. Timothy Brindle is a Teaching Elder in the Presbyterian Church of America and serves as Assistant Pastor at Olive Street Presbyterian Church.
Connect: