The Wednesday Bookmark
Details

Category: Authors
Published:

Tuesday, 13 June 2017 06:00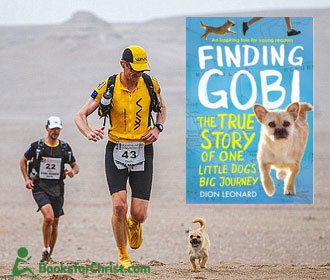 The true story of Gobi and Dion—a little lost dog and the ultramarathon runner who saved her. Read more for Care Baldwin's interview with Dion Leonard on this week's Kids Wednesday Bookmark interview, brought to you by BooksforChrist.com. (Aired June 14th, 2017)
Purchase online at BooksforChrist.com.
Bring home the incredible true story of a friendship so strong that it crosses the globe! Families everywhere will be delighted by the tale of Gobi and Dion—a little lost dog and the ultramarathon runner who saved her. Gobi: A Little Dog with a Big Heart is a fun, engaging picture book perfect for families to enjoy together.
Prepare to fall in love with the heartwarming and true story of Gobi and Dion. Gobi, a scrappy little stray dog, latches onto a man named Dion and keeps pace alongside him for 77 miles of a long 155-mile race across China. Through cold nights and raging rivers, with little food and water, and through a long, hard journey, these two create a bond unlike any other.
Cross the finish line with Gobi and Dion, the little pup who never quit and the ultramarathon runner who loves her. This amazing true story sparked international attention and will continue to inspire readers as they enjoy this fun picture book perfect for children.
Join these two unlikely friends as they form a winning team for both the race and life!
About the Author
Dion Leonard is a 41 year old Australian who lives in Edinburgh, Scotland with his wife Lucja. Dion has not only completed but competed in some of the world's toughest ultra marathons across the planet's most inhospitable landscapes. This includes running across the brutal Moroccan Sahara desert twice in the 250km Marathon Des Sables and also twice across South Africa's Kalahari Desert, also 250km. Dion's latest 250km race across the Gobi Desert in China turned out to be a completely different race where he fell in love with a stray dog (later named Gobi) that followed him during the week and who would change both of their lives forever.