The Wednesday Bookmark
Details

Category: Authors
Published:

Tuesday, 13 June 2017 06:00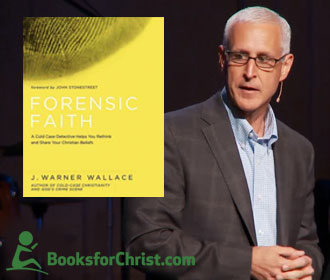 J.Warner Wallace is a retired cold case homicide detective who applies his unique skills to investigate Christianity. Read more for Brock Tozer's interview with author, J.Warner Wallace on this week's Wednesday Bookmark brought to you byBooksforChrist.com. (Aired June 14th, 2017)

Purchase online at BooksforChrist.com.
Forensic Faith will help readers:
• understand why they have a duty to defend the truth
• develop a training strategy to master the evidence for Christianity
• learn how to employ the techniques of a detective to discover new insights from God's Word
• become better communicators by learning the skills of professional case makers
With real-life detective stories, fascinating strategies, and biblical insights, Wallace teaches readers cold-case investigative disciplines they can apply to their Christian faith. Forensic Faith is an engaging, fresh look at what it means to be a Christian.
ABOUT THE AUTHOR
J. Warner Wallace is a Cold-Case Homicide Detective, Senior Fellow at the Colson Center for Christian Worldview, Adjunct Professor of Apologetics at Biola University, Christian Case Maker and author. J. Warner was a conscientious and vocal atheist through his undergraduate and graduate work in Design and Architecture (CSULB and UCLA); he always considered himself to be an "evidentialist". His experience in law enforcement only served to strengthen his conviction that truth is tied directly to evidence. But at the age of thirty-five, J. Warner took a serious and expansive look at the evidence for the Christian Worldview and determined that Christianity was demonstrably true. After becoming a Christ follower in 1996, Jim continued to take an evidential approach to truth as he examined the Christian worldview. He eventually earned a Master's Degree in Theological Studies from Golden Gate Baptist Theological Seminary.
J. Warner served as a Youth Pastor for several years, then planted a church in 2006. Along the way, he created and built the Cold-Case Christianity website, blog and podcast as a place to post and talk about what he discovered related to the evidence supporting Christianity. Jim has appeared on television and radio, explaining the role that evidence plays in the Christian definition of "faith" and defending the historicity of Jesus, the reliability of the Bible and the truth of the Christian worldview. Jim also speaks at churches, retreats and camps as he seeks to help people become confident Christian case makers.
J. Warner's professional investigative work has received national recognition; his cases have been featured repeatedly on NBC's Dateline, and he's been awarded the Police and Fire Medal of Valor "Sustained Superiority" Award. Relying on over two decades of investigative experience, J. Warner provides his readers with the tools they will need to investigate the claims of Christianity and make a convincing case for the truth of the Christian worldview.
coldcasechristianity.comcoldcasechristianity.com
facebook.com/j.warnerwallace
twitter.com/jwarnerwallace