The Wednesday Bookmark
Details

Category: Authors
Published:

Tuesday, 08 November 2016 06:00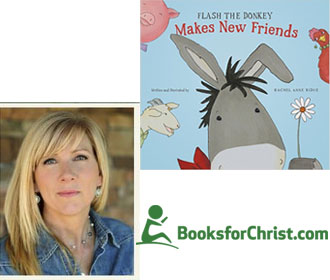 Children will fall in love with Flash the Donkey as they learn the value of true friendship and what it means to be a good friend to others. Read more for Care Baldwin's interview with author Rachel Anne Ridge about "Flash the Donkey Makes New Friends" on this week's Kids Wednesday Bookmark, brought to you by BooksforChrist.com! (aired November 9th, 2016)

Purchase online at BooksforChrist.com.
Hee-haw! A stray donkey with a penchant for inventions is taken in by a mismatched collection of barnyard friends. Flash the Donkey Makes New Friends is the heartwarming story of a not-so-ordinary donkey who needs a special place to belong. Flash is the inquisitive type who loves to invent things and solve problems, but his curiosity sometimes gets him into trouble! With the help of his new-found friends―Jed the Goat, Carson the Pig, and Ruby the Chicken―Flash manages to turn problems into adventures and learns valuable lessons along the way. Inspired by Rachel Anne Ridge's memoir Flash, named one of Publishers Weekly's Best Summer Books of 2015, kids will fall in love with this endearing donkey as they learn to appreciate the value of true friendship
About the Author
Adopting a stray donkey was about the last thing Rachel imagined she'd ever do. She remembers seeing some donkeys that were kept as pets, and wondering, "what's the point?" After all, what did one DO with a donkey, anyway?
Rachel found out the answer when a shabby, homeless donkey showed up on her doorstep - at a most inopportune moment. Unable to find a home for him, Rachel and her family took him in...and their lives were never the same.
Rachel is an artist and writer in Texas. Mom to three grown kids and Nana to four littles.
HomeSanctuary.com
facebook.com/pg/homesanctuary