The Wednesday Bookmark
Details

Category: Authors
Published:

Tuesday, 08 November 2016 06:00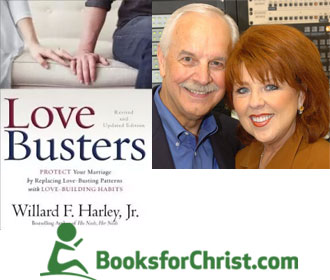 You and your spouse can learn to avoid the six most common "Love Busters" that may have gained a foothold in your marriage. Read more for Brock Tozer's interview with Dr. Willard F. Harley, Jr. clinical psychologist and author of "Love Busterst" on this week's Wednesday Bookmark, brought to you by BooksforChrist.com. (Aired November 9th, 2016)
A Classic Resource from Dr. Harley--Now Revised and Repackaged to Highlight Six Changes in Habits That Will Save Your Marriage
According to relationship expert and bestselling author Dr. Willard F. Harley, Jr., after couples get married, they often develop habits that slowly undermine the love they have for each other. If tolerated, these Love Busters--selfish demands, disrespectful judgments, angry outbursts, dishonesty, annoying habits, and independent behavior--will destroy a couple's love for each other. The solution, however, isn't merely to avoid these negative behaviors and attitudes. Rather, it's to cultivate Love Builders--positive habits that will strengthen the relationship.
With Dr. Harley's expert guidance, couples will be able to avoid the major causes of marital unhappiness and disappointment. Instead of tearing their marriage apart, they will learn to build it into the marriage they had needed and wanted. This book is a perfect companion to His Needs, Her Needs and will be useful to pastors, counselors, and couples.
About the Author
Dr. Willard F. Harley, Jr., is a nationally acclaimed clinical psychologist, a marriage counselor, and the bestselling author of numerous books, including His Needs, Her Needs; Five Steps to Romantic Love; Surviving an Affair; Draw Close; and He Wins, She Wins. Harley's classic bestseller, His Needs, Her Needs, is also available with a video curriculum for churches and small groups. His popular website, www.marriagebuilders.com, offers practical solutions to almost any marital problem.