The Wednesday Bookmark
Details

Category: Authors
Published:

Tuesday, 18 October 2016 13:29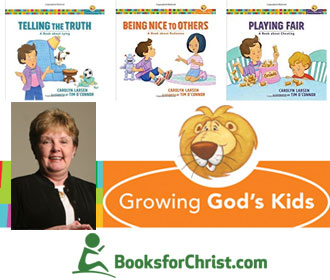 This series helps young children learn how to deal with emotions and behaviors that are part of growing up. Read more for Care Baldwin's interview with bestselling author, Carolyn Larsen on her series "Growing God's Kids Series" on this week's Kids Wednesday Bookmark, brought to you by BooksforChrist.com! (aired October 19th, 2016)


Purchase online at BooksforChrist.com
The preschool and kindergarten years are some of the most important formative years of a person's life. Habits and attitudes developed during these crucial years affect a child for the rest of his or her life. These years are also a challenging time for parents as their children test boundaries (and patience). How parents and children respond makes all the difference in the world.
The Growing God's Kids series is designed to help young children understand their feelings, develop godly ways to deal with temptations, and form positive attitudes and behaviors that will serve them well in the future.
About the Author
Carolyn Larsen is the bestselling author of more than fifty books for children and adults, including the popular Little Girls and Little Boys Bible storybooks. She is a frequent conference speaker around the world, bringing scriptural messages filled with humor and tenderness.
carolynlarsen.com
facebook.com/Carolyn-Larsen