The Wednesday Bookmark
Details

Category: Authors
Published:

Wednesday, 26 October 2016 15:28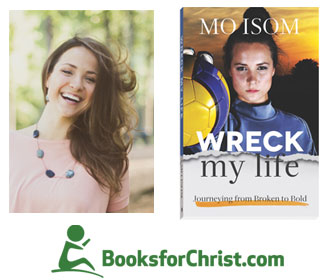 All-American soccer star Mo Isom will remind you that brokenness is actually the very place God meets us the most. Read more for Brock Tozer's interview with Mo Isom, author of "Wreck My Life: Journeying from Broken to Bold" on this week's Wednesday Bookmark, brought to you by BooksforChrist.com. (aired October 26th, 2016)
A NEW YORK TIMES BESTSELLER
Inspiring Story of How Brokenness Leads to Bold Faith
Jesus promises peace and trouble for his followers. But most of us accept the peace and are confused and angry when adversity comes our way.
All-American soccer star Mo Isom knows the struggle firsthand. While her life seemed like a success, she was battling an eating disorder, the suicide of her father, and a horrific car accident. It wasn't until God wrecked her life that she discovered the glory of renewal through Jesus Christ and that wreckage can be sacred rather than scarring. Readers take the journey from broken to bold with her and learn to surrender their lives to the King who was wrecked on their behalf.
About the Author
New York Times bestselling author Mo Isom was an All-American goalkeeper for the Louisiana State University soccer team. She holds the LSU all-time goalkeeper record as well as the #3 SEC all-time shutout record. She trained with the US Women's National program, was honored as National Player of the Week, has appeared on ESPN SportsCenter Top-10 Plays, and has been featured in Sports Illustrated and appeared on Ellen, ESPN, CBS, The 700 Club, and countless other platforms. Isom speaks nationally and internationally, and facilitates a faith-centered blog that has garnered millions of views to date. She and her husband, Jeremiah Aiken, live in Atlanta, Georgia.
moisom.com
facebook.com/TheMoIsom
twitter.com/MoIsom
instagram.com/moisom