Details

Category: Latest
Published:

Friday, 07 July 2017 08:08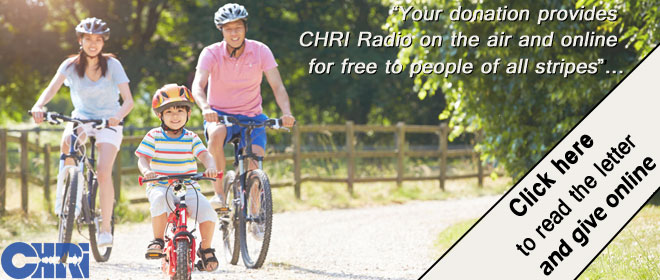 Please take a moment to read this letter from the CHRI team and consider supporting the radio ministry during the lean summer month.
Visit chri.ca/donate for giving options. Donations are tax-receiptable.
Summer 2017
"And now these three remain: faith, hope and love. But the greatest of these is love" (1 Corinthians 13:13)

Dear CHRI listener,
With longer sunlight hours and hope for warmer days, we trust you are strengthened day in and day out by the messages of hope delivered to you freely in music and spoken word on CHRI-FM.
We realize that not much is free today but your donation provides Christian Hit Radio Inc. on the air and online for free to people of all stripes. Whether they are in their car, at work, in the kitchen or convalescing in a hospital or long-term care facility, people everywhere can hear about God's love and grace on CHRI-FM.
Imagine a taxi or Uber driver who is alone in their car for hours on a late night shift work touched to their very core by the song or bible teaching they needed at that precise moment. We hear stories like this every day and your contribution guarantees that life changing opportunities will continue to be available.
CHRI-FM is going into the lean summer months when advertising revenues slump and we need your financial support to bridge our budget until autumn.
Thank you for considering sending in your donation today. CHRI is one sure way that you can impact thousands of lives daily making your community a better place to work and live.
Will you please consider joining us in a couple of the many ministry outreach efforts your donations and our sponsors will bring to the community this summer?!
...and be blessed with a safe, healthy season!
Bill Stevens, General Manager, THE CHRI TEAM and our many volunteers including The Board of Directors.