99+1 Days of Summer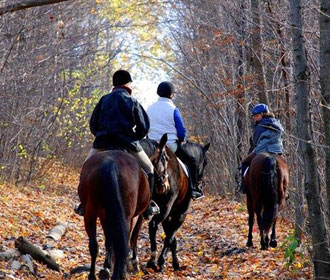 Captiva Farms offers an exciting, one-of-a-kind horseback riding experience for all levels of skill, near Ottawa, in Wakefield QC. Captiva is the only horseback riding ranch that allows groups and families to explore over 40 KM together on over 450 acres of wilderness trails.
In order to prepare everyone for the horseback adventure, their staff provides a 30 minute horseback riding lesson before your trail excursion. This not only allows you to ride in more confidence and comfort but protects the horses from the mental damage that can be caused by confusing signals from the rider. Once you and your instructor are confident with everyone's abilities, you are led onto their huge network of trails. They offer beginner, intermediate, and advanced trails. They will make sure you're prepared, trained, confident and properly equipped before heading out on their exciting 40+ kilometer network of horseback riding trails.
Come with your friends and family, and they will make sure you are all perfectly prepared and comfortable for your horseback riding adventure!
Book your ride at least 24 hours in advance by calling (819) 459-2769.
Captiva Farms website: captivafarms.com
PRICING:
Introductory session ($25) - A 30 minute introduction to Captiva's horses and methods before heading out on the trail. This is required of any riders new to our farm or with little or no Western riding experience.
Adult trail ride ($55/hr) - Riders 18 years and older.
Youth trail ride ($50) - 1 hour trail ride, reduced rate for youth 10 - 17 years old. These young riders will require the introductory session as a refresher before going on each trail ride. Riders younger than 10 can enjoy a lesson in the arena or a pony walk.
Private guide ($55) - Ensuring a private trail ride. $55 per hour.