99+1 Days of Summer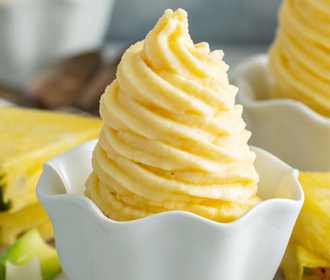 Who says you have to go to Disney World to eat a bowl of classic Disney Dole Whip? Make some at home this summer with this recipe from bellyfull.net!

What is Dole Whip? Dole Whip is a pineapple-flavored soft-serve ice cream. It was originally created by the fruit company, Dole, but became available at Disneyland's Tiki Bar in 1986. It's now served at a few different locations in the park and also across the US, but pretty synonymous with Disneyland. It's achieved a large following as visitors to Disney will wait in a very long line just to get one on a hot day.
Read more to make your own classic Dole Whip!
Ingredients:
- 4 ounces pineapple juice
- 1 big scoop vanilla ice cream (about 3/4 cup)
- 2 cups frozen pineapple chunks
- 2 tablespoons sugar , optional but recommended
- splash of lemon juice
- pinch of salt
There are only a few ingredients needed to make this! The real Disneyland Dole Whip is vegan now, made with a non-dairy creamer, sugar, and natural flavoring and coloring. But when Disney recently released their recipe to the world, due to the parks being closed, it was merely 3 ingredients – pineapple juice, frozen pineapple chunks, vanilla ice cream.
This at-home version uses real ingredients and is as close to the authentic flavor as you'll get!

Instructions:
- Combine all the ingredients in a blender (in the order listed); blend until smooth and ultra creamy, pushing down the pineapple chunks if necessary, about 3 minutes.
- At this point you can pour into dessert cups. But I like to freeze the mixture for 30-40 minutes, then transfer to a piping bag with a 1M "star" tip (to get that iconic Dole Whip swirl.)
- Swirl into glasses. (To help the soft-serve hold its shape even longer, freeze the swirled whip another 20 minutes.)