Blog
Details

Category: Blog
Published:

Tuesday, 12 July 2022 10:57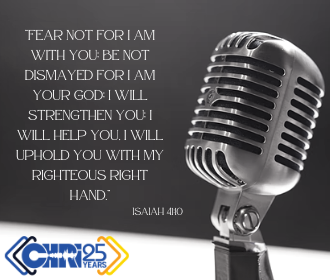 God was with us 25 years ago when the Canadian government's CRTC awarded CHRI the first non-denominational Christian radio license. He was with us again 15 years ago when we were invited to share our antennae with another broadcaster, providing CHRI with an entirely new state of the art transmitter facility and sending 99.1FM to over 1,200,000 people!
Today, we are updating our 15-year-old broadcasting and producing technology at the station putting us on a par with all the secular radio stations, and future proofing CHRI for another 10 years!
Because of your faithfulness CHRI is going forward stronger than ever.
Thank you for partnering with CHRI in these summer months. We have reached our summer fundraising goal and have ended this campaign!
Knowing you're with us gives us strength and your provision for this ministry constantly reminds us above all that God is with us: Emmanuel. He said it in Isaiah 41:10 "fear not for I am with you; be not dismayed for I am your God; I will strengthen you; I will help you, I will uphold you with my righteous right hand."
With your donation, we will continue to pursue our mission: "to use media to strengthen the Christian community". And our vision, "to become a primary source of inspiration to Christians through the creation and distribution of worthy radio programming, still and moving images, social media, written and spoken words."
Please contribute what you can to help us through the dry summer months as we prepare for the next decade of fulfilling our mission for Christ. "You will be enriched in every way so that you can be generous on every occasion and through us, your generosity will result in thanksgiving to God". 2 Corinthians 9:11
We will continue to pray for you, join us in praying for the thousands who will come to a saving knowledge of Jesus Christ through the Christian media that is CHRI.
We are so thankful for your partnership!
Many thanks and blessings from Bill and the CHRI Team.
Click here for the PDF version of the CHRI Summer Fundraising Letter that has been sent out, or watch for it in your mailbox.
Give securely online here, call 1-866-247-1440, or return the tear-off slip at the bottom of your letter.