Blog
Details

Category: Blog
Published:

Tuesday, 24 April 2012 11:44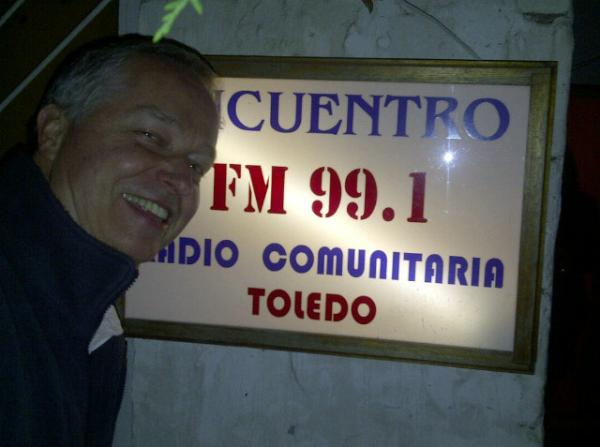 When we arrive at the church in which the children have been gathered, we´re greeted with great love and enthusiasm. Ian Stokes of SP Canada explains that the Uruguayans have been praying for months for the impact that these Christmas shoeboxes will have on their community....
In fact they have been aware that Canadians would come to deliver them on behalf of the donors and have been praying for us specifically!
The customary greeting is a warm embrace and a kiss on the cheek. Oddly this comes at first as a shock to the Canadian contingent who are accustomed to our private space but we soon warmed up to it and wonder now after a few days of this generous greeting why the ¨kiss of Jesus¨ isn´t given in every church?
(pic of Bill at the local radio station .. note the frequency! :) )
We soon discover that they are passionate about Jesus in every way: The way they communicate with us without our interrupters, the way they work so tirelessly to build His church in the most difficult of circumstances (one church has been struggling for years in a government designated ¨red¨ district for highest crime rate with a history of 22 break ins during their 8 years of working out of a small concrete block building with a leaking roof) and the passionate belief they share that Jesus is the most important fact for the survival of and hope for their children.
When the children are lined up according to age they receive the gospel message and then their shoe box. Pandemonium breaks out and they are each blessed with the contents that YOU have carefully packed for them. What a sight! We meet the families and hear snippets of their stories, enough to appreciate who they are, their struggles and their victories in Christ.
Check out Care's interview with Ian Stokes (Project Manager, Samaritan's Purse Canada) and CHRI's Bill Stevens:
{gallery}events_uruguay_day3{/gallery}