Blog
Details

Category: Blog
Published:

Wednesday, 09 November 2011 12:35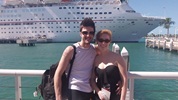 We looked out the window when we woke up this morning to see land.. Port of Call: Key West. We quickly enjoyed breakfast room service and then lined up to get off the ship for our excursion. We kayaked through the mangroves on the other (Atlantic) side of the island with 2 other young couples. Our tour guide, from Lazy Dog Tours, explained that the whole island of Key West is only 8-square miles and is occupied by 24,000 people.. much of the land is owned by the US Army and of course, a large part (the older part) is tourism. – It's a closer distance to Cuba than it is to the nearest Walmart! The mangroves are a protected area where boats are fined $500 per square foot they boat through. Often the water level is so low you can even get a kayak across but today, it was about 4 feet deep (if you count the mucky sand at the bottom you would sink into if you tried to stand up). The grassy bottom and preserved ecosystem is home to many species and acts as a nursery to protect young fish and animals as well protect the shore from hurricane damage. We saw lots of sea sponges, barracuda, snapper, sea cucumber, upside-down jellyfish, horseshow crab, tree crab, starfish and more. (see photos)
After the tour we walked around the main streets visiting shops and, of course, eating the "best key lime pie on the island".. It was awesome!
After returning to the ship, we had a private reception with other radio guests and artists.
It was the night for formal attire at dinner and Jason and I both ordered the lobster tail with jumbo shrimp and alligator fritters as an appetizer.
The evening entertainment was incredible... Heather Williams then MercyMe followed by clean comic Bone Hampton (whom I was asked to introduce on stage) then Illusionist Brock Gil.
Another great day packed with adventure and entertainment. Tomorrow I'm trying scuba diving 20 feet deep so check back to hear how THAT goes!!! :S
Care