The Wednesday Bookmark
Details

Category: Authors
Published:

Tuesday, 27 September 2022 06:00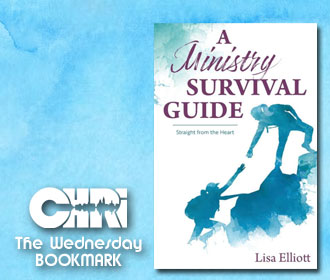 A life in the spotlight of ministry comes with many joys and challenges. How can you not just survive, but THRIVE in the Christian life? Replay Brock's Wednesday Bookmark interview with local Ottawa author, Lisa Elliott.
Purchase A Ministry Survival Guide, here.
As an Amazon Associate, CHRI earns from qualifying purchases.
Book Description:
A Ministry Survival Guide: Straight from the Heart explores the joys and challenges of life in the spotlight of ministry. Relatable stories, survival tips, biblical mentors, and a Bible study guide provide a valuable resource for pastors' wives, women in ministry, and anyone who desires to thrive, not just survive in the Christian life. This book will help you:
live a public-private life.
fortify your marriage.
balance family and ministry.
prevent burnout.
navigate transitions.
manage painful relationships.
grow through personal challenges.
build a godly support system.
discover blessings beneath burdens.
nurture your soul.
About the Author:
Lisa Elliott is a ministry wife, gifted speaker, and award-winning author of The Ben Ripple and Dancing in the Rain. She's also a writer for Just Between Us Magazine, theStory, and Good Ground. Her passion is to share life-changing truths-straight from the heart.
Connect:
This email address is being protected from spambots. You need JavaScript enabled to view it.