The Wednesday Bookmark
Details

Category: Authors
Published:

Monday, 23 May 2022 06:00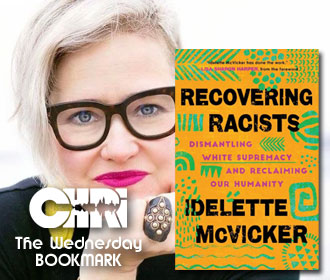 Are you trying to grapple with the legacy of white supremacy, perhaps on both a societal level and in your own heart? Replay Brock's Wednesday Bookmark interview with Idelette McVicker.
Purchase Recovering Racists, here.
As an Amazon Associate, CHRI earns from qualifying purchases.
Book Description:
As a white Afrikaner woman growing up in South Africa during apartheid, Idelette McVicker was steeped in a community and a church that reinforced racism and shielded her from seeing her neighbors' oppression. But a series of circumstances led her to begin questioning everything she thought was true about her identity, her country, and her faith.
Recovering Racists shares McVicker's journey over thirty years and across three continents to shatter the lies of white supremacy embedded deep within her soul. She helps us realize that grappling with the legacy of white supremacy and recovering from racism is lifelong work that requires both inner transformation and societal change. It is for those of us who have hit rock bottom in the human story of race, says McVicker. We must acknowledge our internalized racism, repent of our complicity, and learn new ways of being human.
This book invites us on the long, slow journey of healing the past, making things right, changing old stories, and becoming human together. As we work for the liberation of everyone, we also find liberation for ourselves. Each chapter ends with discussion questions.
About the Author:
Idelette McVicker is the founder and president of SheLoves Media Society, an online forum for Christian women that includes SheLovesMagazine and the Dangerous Women membership community. She is a popular speaker and retreat leader internationally. McVicker wrote the SheLovesmanifesto, Let Us Be Women Who Love, which has been used by women's ministries around the world and in Sarah Bessey's book Jesus Feminist. After training as a journalist in South Africa, she lived in Taiwan, where she wrote for daily newspapers. McVicker moved to Canada in 1999 and lives in Surrey, British Columbia.
Connect: