The Wednesday Bookmark
Details

Category: Authors
Published:

Tuesday, 09 February 2010 09:16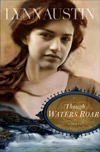 Harriet never expected that following in her grandmother's footsteps would land her in jail, but it does give her time to reflect on the generations of godly women who have preceeded her.
Click here to listen to Ali's interview with Lynn Austin, author of "Though Waters Roar", on this week's Wednesday Bookmark, brought to you by Salem Storehouse!
20% off!
Order your copy at

Salem Storehouse

(1558 Merivale Road, 613-727-0203)
Offer only valid for one week from the interview date.
Harriet Sherwood has always adored her grandmother. But when Harriet decides to follow in her footsteps to fight for social justice, she certainly never expected her efforts to land her in jail. Nor did she expect her childhood enemy and notorious school bully, Tommy O'Reilly, to be the arresting officer. Languishing in a jail cell, Harriet has plenty of time to sift through the memories of the three generations of women who have preceded her. As each story emerges, the strength of her family--and their deep faith in the God of justice and righteousness--brings Harriet to the discovery of her own goals and motives for pursuing them.
"Thank goodness you're such a plain child. You'll have to rely on your wits."
So went the words of Grandma Bebe. And for all of my growing-up years, I scoffed at the beauty of my sister and what I saw as her meaningless existence. But my wits hadn't served me well in this instance, for here I was, in jail. And while I could have seen it as carrying on the family tradition (for Grandma Bebe landed in jail for her support of Prohibition), the truth is, my reasons for being here would probably break her heart.
So how did I end up becoming a criminal? I've been pondering that question all night. Perhaps the best way to search for an answer is to start at the very beginning...