The Wednesday Bookmark
Details

Category: Authors
Published:

Tuesday, 19 January 2010 04:02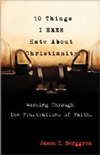 Working through the frustrations of faith, Berggren explores many of the wrong expectations that have caused absolute frustration in his life and his own faith journey... The good news: this sense of overwhelming dissatisfaction can actually serve as a catalyst for personal growth.
Click here to listen to Brock's interview with Jason T. Berggren, author of "10 Things I Hate About Christianity", on this week's Wednesday Bookmark, brought to you by Salem Storehouse!
20% off!
Order your copy at

Salem Storehouse

(1558 Merivale Road, 613-727-0203)
Offer only valid for one week from the interview date.
We can all feel hate. There's frequently a level of frustration that overwhelms us when we are faced with trying to achieve certain goals—like getting in shape, making the grade, or straightening out our finances. This is where I got stuck in my spirituality.
"Within the pages of my book are the 10 things I've hated about Christianity over the years and how I've worked through my frustrations. I call it the intersection of real life, simple faith, and raw emotion. And I am confident it can help in your own spiritual journey."