The Wednesday Bookmark
Details

Category: Authors
Published:

Tuesday, 12 January 2010 09:26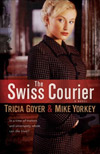 Asked to safely courier a German physicist working on the budding Nazi atomic bomb project to the Swiss border, Gabi feels the weight of the war on her shoulders. But who can she trust?
Click here to listen to Ali's interview with Tricia Goyer, co-author of "The Swiss Courier", this week's Wednesday Bookmark, brought to you by Salem Storehouse!
20% off!
Order your copy at

Salem Storehouse

(1558 Merivale Road, 613-727-0203)
Offer only valid for one week from the interview date.
Working as a Swiss transcriptionist for the Americans during WWII, Gabi Mueller's life changes overnight when she's recruited as a spy for the precursor of the CIA.