The Wednesday Bookmark
Details

Category: Authors
Published:

Tuesday, 11 May 2021 06:00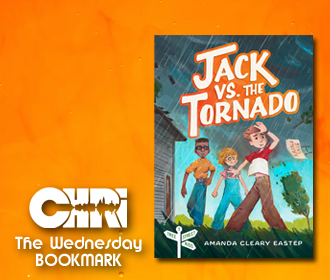 10-year-old Jack is on a mission to get back to his beloved rural home after moving to the suburbs. Will Jack find a solution? Or is God up to something bigger than Jack can possibly imagine? Replay Care's Wednesday Bookmark interview with Amanda Cleary Eastep.
Purchase Jack vs. the Tornado, here.
As an Amazon Associate, CHRI earns from qualifying purchases.
Book Description: The Tree Street Kids live on Cherry, Oak, Maple, and Pine, but their 1990s suburban neighborhood is more than just quiet, tree-lined streets. Jack, Ellison, Roger, and Ruthie face challenges and find adventures in every creek and cul-de-sac―as well as God's great love in one small neighborhood.
In the first book of the Tree Street Kids series, 10-year-old Jack is shocked to discover his parents are moving from their rural homestead to the boring suburbs of Chicago. Full of energy and determination, Jack devises a plan to get himself back to his beloved farmhouse forever. Only three things stand in his way: a neighbor in need, a shocking discovery, and tornado season. Will Jack find a solution? Or is God up to something bigger than Jack can possibly imagine?
About the Author: Amanda Cleary Eastep is not related to Beverly Cleary but wishes she were. She is, however, a children's author, and the Tree Street Kids is her debut series (Moody Publishers, 2021 and 2022). Her children's writing has been published in Ladybug, The Friend, Sunday school curriculum, and at Story Warren. As a longtime writer, she's contributed to Christianity Today, Think Christian, and many other print and online publications. She is a member of the Society of Children's Book Writers and Illustrators, and she leads writing workshops at her local teen center. Amanda is also the senior developmental editor at Moody Publishers in Chicago, working closely with authors to help shape Christian nonfiction books in the areas of Christian living, church and ministry, and personal and spiritual growth.
Connect: