The Wednesday Bookmark
Details

Category: Authors
Published:

Tuesday, 09 February 2021 06:00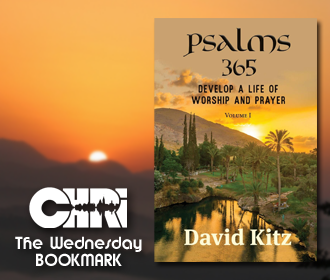 The Psalms are a poetic feast for the mind, soul and spirit. Read more for Brock's non-fiction Wednesday Bookmark interview with David Kitz.
Purchase Psalms 365 here.
As an Amazon Associate, CHRI earns from qualifying purchases.

Book Description: Why dig into the Psalms? The Psalms are a poetic feast for the mind, soul and spirit. In them, you will find intimacy with God. For a hundred generations, hungry souls have found nourishment there.
Psalms 365 is specifically designed to help you develop a life of worship and prayer like the biblical David. Let author David Kitz take you on a journey—a journey to a deeper understanding of God's will and his ways for your life. Each daily reading provides insight and inspiration for practical Christian living, allowing the Good Shepherd to guide you to the center of his will.
About the Author: David Kitz is a Bible dramatist, an award winning author, a convention speaker and a retired public school teacher. For over twenty-five years, he has served as an ordained minister with the Foursquare Gospel Church of Canada.
David has a Master's degree in Biblical Studies, in addition to Bachelor's degrees in both Arts and Education. His love for drama and storytelling is evident to all who have seen his Bible based performances. For several years now, he has toured across Canada and into the United States with a variety of one man plays for both children and adults. Though born and raised in Saskatchewan, David now lives in Ottawa, with his wife Karen.
Connect: