The Wednesday Bookmark
Details

Category: Authors
Published:

Tuesday, 17 November 2009 03:40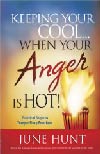 God's design for anger is to help us and others -- not harm us. So, how can we turn anger into a force for good? June Hunt gives compassionate counsel starting with the scriptural principles and then providing practical steps that make change possible.
Click to hear Brock's interview with June Hunt, author of "Keeping Your Cool When Your Anger Is Hot!".
20% off!
This book is available upon request at

Salem Storehouse

(1558 Merivale Road, 613-727-0203)
Offer only valid for one week from the interview date.
We all struggle with anger. Add a d in front of anger, and it spells danger! Unfortunately, most of us have been taught anger is always bad. So we stuff it and disguise it, mask it and medicate it, numb it and rename it. But that only fuels the fire within us… making an explosion all the more likely.
God's design is for anger to help us and others not harm us. So, how can we run anger into a force for good?
The fiery emotion of anger often causes us to say and do things we later regret. Popular biblical counselor June Hunt, gives biblical compassionate guidance on this sensitive topic. Readers will carefully explore the various causes and kinds of anger and the biblical steps towards resolution and learn…
The four sources of anger
How to identify the triggers of anger
How to respond to angry people
Ways of dealing with past angers buried deep in the heart
What the Bible says about righteous and unrighteous anger
How to bring about real and lasting change
How to act positively rather than react negatively
This book brings together a rare combination of forthrightness and gentleness that will effectively lead readers to surrender their anger to God and enjoy greater forgiveness and peace.
June Hunt is the founder of "Hope for the Heart", a worldwide biblical counseling ministry. www.hopefortheheart.org