The Wednesday Bookmark
Details

Category: Authors
Published:

Tuesday, 15 September 2009 19:00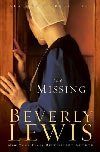 In "The Misisng" (the second in the Seasons of Grace trilogy) Beverly Lewis continues the story of the Byler Family.
Lettie is still absent. Grace is overwhelmed missing her mother and unsure about Yonnie's attentions and Heather is determined to delay conventional medicine.
Click for Ali's interview with New York Times Bestselling Author, Beverly Lewis.
20% off!
This book is available upon request at

Salem Storehouse

(1558 Merivale Road, 613-727-0203)
Offer only valid for one week from the interview date.
Twenty-one-year-old Grace Byler longs to find her missing mother and to uncover the secret that drove her to leave them three weeks before. Grace suspects the reason has to do with her father and his reserved, uncommunicative ways. This conviction led Grace to break off her betrothal to her quiet, staid beau, and she is now resigned to remain single. But when the young Amishman she thought was courting her best friend takes a sudden interest in her, Grace is befuddled and wonders if he can be trusted.
"Englisher" Heather Lang has come to Amish country to relive fond memories of her mother and to contemplate a grave medical prognosis of her own. While in Bird-in-Hand, Heather meets Grace Byler and the two young women strike up a fast friendship, amazed by how well they click.