The Wednesday Bookmark
Details

Category: Authors
Published:

Tuesday, 08 September 2009 19:00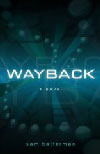 "Wayback" is an adventure beyond time and imagination.
A mysterious device has been discovered that, in the right hands, can prove remarkable events such as the flood, Noah's Ark and advanced civilization were true. However there are people who would kill to use this machine to overturn the many basic beliefs about science, history and religion.
Click to hear Ali's interviews with author Sam Batterman (Novelist of Speculative Fiction).
20% off!
This book is available upon request at

Salem Storehouse

(1558 Merivale Road, 613-727-0203)
Offer only valid for one week from the interview date.
A mysterious Nazi super weapon, hidden for more than 60 years, has been discovered by members of a reclusive, private think tank and perfected using modern technology. This fully realized and reliable device is so powerful, so provocative, that the basic beliefs of science, history and religion could be overturned in an instant.
After a cataclysmic system failure kills an expedition attempting to return to the year 100,000 B.C., a team of skeptical scientists and adventurers is dispatched to the Antediluvian world, a world that no one anticipated full of wonder, danger and advanced civilizations that will rock the accepted theories of science and history to their core.
However, the team is unaware of another plan that is unfolding; there are people who will kill to use this remarkable machine to further their own plans for our past and future.