The Wednesday Bookmark
Details

Category: Authors
Published:

Sunday, 30 August 2009 19:00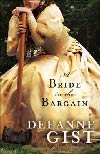 In 1860's Seattle, a man with a wife could secure 640 acres of timberland for free. When the local judge threatens to take away Joe Denton's claim, he buys himself a wife in an act of desperation. It seems the wedding is all planned... Someone just needs to tell the Bride!
Click to hear Ali's interview with "A Bride in the Bargain" author Deeanne Gist.
20% off!
This book is available upon request at

Salem Storehouse

(1558 Merivale Road, 613-727-0203)
Offer only valid for one week from the interview date.
In 1860s Seattle, redwoods were plentiful but women scarce. Yet a man with a wife could secure 640 acres of timberland for free.
Joe Denton doesn't have a wife, though. His died before she could follow him to Seattle and now the local judge is threatening to take away his claim. In desperation, he buys himself a Mercer bride--one of the eastern widows and orphans brought to the Territory by entrepreneur Asa Mercer. Anna Ivey's journey west with Mercer is an escape from the aftermath of the Civil War. She signed on to become a cook--not a bride.
When she's handed over to Denton, her stubborn refusal to wed jeopardizes his land.
With only a few months before he loses all he holds dear, can he convince this provoking, but beguiling, easterner to become his lawfully wedded wife?