The Wednesday Bookmark
Details

Category: Authors
Published:

Tuesday, 19 June 2018 06:00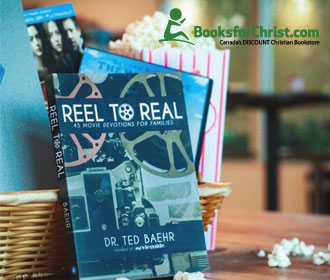 Discover God's heart in movie favorites. Read more for Brock Tozer's non-fiction Wednesday Bookmark interview with author and MOVIEGUIDE founder Ted Baehr.
Purchase "Reel to Real: 45 Movie Devotions for Families" online at booksforchrist.com.

Book Description: Christians want to be inspired and equipped by God's grace so they can have the more abundant life that Jesus promised in John 1:10. While most of the culture has drifted away from the good news of John 1:10, more and more Hollywood movies proclaim it in word and deed.
Movieguide® s Reel to Real provides forty-five inspirational devotions that exemplify principles from God's Word, using powerful moments from over 150 great movies. Each devotion is insightful and uplifting, illustrating a meaningful theme, Some of the movies include:
It's a Wonderful Life
Hacksaw Ridge
Sing
Les Miserables
Squanto: A Warrior's Tale
God's Not Dead 2
Amazing Grace
Smurfs: The Lost Village
Movies are a powerful medium to communicate truth. Reel to Real will help you discover God's heart in movie favorites as you enjoy the relaxation of entertainment.
About the Author: TED BAEHR is the founder and publisher of MOVIEGUIDE® (movieguide.org), a family guide to entertainment. An award-winning media authority on web, television, radio and print, his purpose is to be used by God to redeem the mass media and to encourage families to use wisdom in selecting their entertainment. He is the author of over thirty-five books, including How To Succeed In Hollywood (Without Losing Your Soul), The Media-Wise Family, Narnia Beckons, Faith In God & Generals, The Amazing Grace Of Freedom, and The Culture-Wise Family. Ted makes his home in Los Angeles, California.
Contact: