The Wednesday Bookmark
Details

Category: Authors
Published:

Tuesday, 04 July 2017 06:00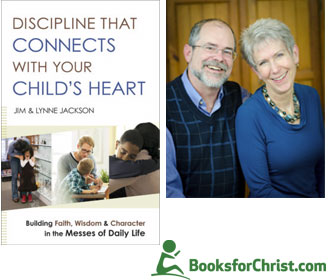 With warmth and grace, Jim and Lynne Jackson, founders of Connected Families, offer four tried-and-true keys to handling any behavioral issues. Read more for Brock Tozer's interview with Jim and Lynne Jackson, authors of "Discipline That Connects With Your Child's Heart" on this week's "Best of the Wednesday Bookmark", brought to you by BooksforChrist.com. (Aired Wednesday, July 5th, 2017)
Did you know that the way we deal (or don't deal) with our kids' misbehavior shapes their beliefs about themselves, the world, and God? Therefore it's vital to connect with their hearts--not just their minds--amid the daily behavior battles.
With warmth and grace, Jim and Lynne Jackson, founders of Connected Families, offer four tried-and-true keys to handling any behavioral issues with love, truth, and authority. You will learn practical ways to communicate messages of grace and truth, how to discipline in a way that motivates your child, and how to keep your relationship strong, not antagonistic. Discipline is more than just a short-term attempt to modify your child's actions--it's a long-term investment to help them build faith, wisdom, and character for life. When you discover a better path to discipline, you'll find a more well-behaved--andwell-believed--kid.
About the Authors
Jim and Lynne Jackson (www.connectedfamilies.org) have conducted over 1,300 workshops for parents and privately coached more than 1,000 parents since the early 1990s. They are media spokespeople for a variety of parenting issues, frequently speaking at churches and parenting conferences. The Jacksons have three children and live in Minnesota.
connectedfamilies.org
facebook.com/ConnectedFamilies