The Wednesday Bookmark
Details

Category: Authors
Published:

Tuesday, 21 February 2017 06:00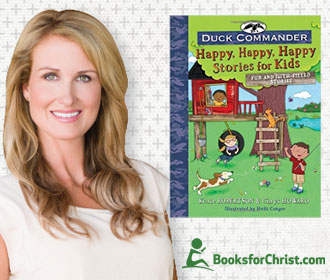 Mostly true-ish stories from the Duck Dynasty family that demonstrate valuable lessons and family values. Click here for Care Baldwin's interview with authors, Korie Robertson & her mom Chrys Howard on this week's Kids Wednesday Bookmark interview, brought to you by BooksforChrist.com!

Purchase online at BooksforChrist.com.
Have you heard about the birthday sleepover where Will forgot one very important item?
What about Survivor Day—a special day at camp when the kids are given a really big challenge?
Or did you hear about the ski trip when 2-Mama and Bella got lost and everyone learned a big lesson . . . ?
Well, cozy up and listen close, because you're about to hear all these stories—and more!
Full of mostly true-ish stories from the Duck Pond comes Duck Commander Happy, Happy, Happy Stories for Kids. Korie Robertson and her mom, Chrys Howard, have partnered to bring you hilarious and heartwarming stories that demonstrate valuable lessons and family values. Whether it's the importance of being prepared, working hard, or relying on God when you're scared, the Duck Dynasty gang has a story for you!
Featuring lively art and solid moral lessons, Duck Commander Happy, Happy, Happy Stories for Kids will illustrate these ideas in fun, engaging ways. Cuddle up with your kids, and laugh together as you read about the silly antics of America's favorite family—and talk about how the same principles are true in your life too.
Sometimes the silliest stories can teach us the most important things about loving others and being kind. With its fun illustrations and sweet messages, Duck Commander Happy, Happy, Happy Stories for Kids is the perfect way to share these truths with your children.
About the Author
Korie Robertson is a New York Times best-selling author, the wife of Duck Commander® CEO Willie Robertson, mother of six, and star of A&E's Duck Dynasty. Korie balances family life and her role at Duck Commander with several ventures of her own, including overseeing licensing for the family's brands, retail store Duck and Dressing, speaking around the country and philanthropic work as a board member for: Help One Now, Congressional Coalition for Adoption Institute, Camp Ch-Yo-Ca, Legacy Collective and Drive Adoption. Her writing credits include: Strong and Kind, The Women of Duck Commander, Faith Commander, The Duck Commander Devotion for Kids and The Duck Commander Family.
duckcommander.com
twitter.com/bosshogswife
facebook.com/OfficialKorieRobertson
instagram.com/bosshogswife