The Wednesday Bookmark
Details

Category: Authors
Published:

Tuesday, 11 October 2016 06:00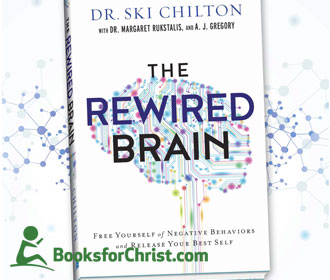 Learn how to trade your negative thinking for confident, fearless living.
Read more
fo
r
Brock Tozer's interview with
Dr. Ski Chilton
, co-
author of "
The ReWired Brain: Free Yourself of Negative Behaviors and Release Your Best Self
" on
this week's Wednesday Bookmark, brought to you by
BooksforChrist.com
. (aired October 12th, 2016)


Purchase online at BooksforChrist.com
Trade Negative Thinking for Confident, Fearless Living
Most of us don't realize that we have a surprising amount of control over our own thoughts and behaviors and can unintentionally influence our brains negatively, causing cycles of bad choices and experiences.
The ReWired Brain offers a clear framework for understanding our brains and the decisions we make, showing how certain fears and instincts drive unhealthy emotional dysfunctions and related behavioral patterns in the most important areas of life. This book shows how to reframe negative experiences, experience emotional and spiritual healing, and ultimately rewire our brains, empowering to live fearlessly.

About the Author
Dr. Ski Chilton is a professor in the department of physiology and pharmacology at Wake Forest University School of Medicine. He has authored or coauthored more than 130 scientific articles and four books, including Inflammation Nation. His work is regularly featured in such venues as WebMD, Men's Journal, Men's Health, Prevention, The Wall Street Journal, ABC News, and more.
drskichilton.com
facebook.com/drskichilton
twitter.com/TheDrSki