The Wednesday Bookmark
Details

Category: Authors
Published:

Monday, 03 October 2016 11:21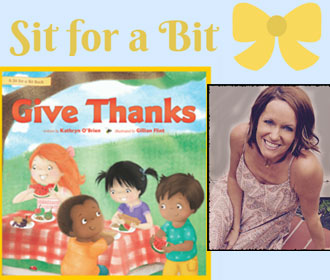 "Give Thanks" & the entire "Sit for a Bit Series" turns Bible memorization from a duty to a delight. Read more for Care Baldwin's interview with Kathryn O'Brien, author of the "Sit for a Bit Series" on this week's Kids Wednesday Bookmark, brought to you by BooksforChrist.com! (aired October 5th, 2016)


Purchase online at BooksforChrist.com
"Be Still", "Give Thanks", and "I Can" turn Bible memorization from a duty to a delight for children, using the author's unique teaching strategy. This purposeful presentation of Scripture will help children memorize, understand, and absorb passages as the author presents this powerful verse one word at a time, teaching the meaning of each individual word before presenting the entire passage. Each book builds a meaningful connection between God's Word and a child's life experiences, laying a foundation for a love and comprehension of Scripture. Parents and children will enjoy interacting together over the passage.
"Give Thanks" is an introduction of Psalm 136:1 ("Give thanks to the Lord, for he is good!").
About the Author
Kathryn O'Brien writes books for kids and has a heart for moms. She's published five children's picture books, including her latest series (Sit for a Bit, Tyndale) and is happy to serve on writing teams for HomeFront magazine, forthefamily.org, and proverbs31woman.org. When she's not writing or enjoying her day job as a Christian school administrator, Kathryn can usually be found texting her three grown children, hanging on the front porch with her husband, or hiking the canyons near her home in Southern California.
kathobrien.com
facebook.com/iamkathobrien