The Wednesday Bookmark
Details

Category: Authors
Published:

Tuesday, 30 August 2016 07:00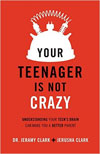 Understanding your teen's brain can make you a better parent! Click here for Brock Tozer's interview with Jerusha Clark , co-author of "Your Teenager's Not Crazy" from this week's Best of the Wednesday Bookmark, brought to you by BooksforChrist.com.

Purchase online at BooksforChrist.com


Turn the most frustrating parenting years into the most fruitful
The teenage years. These three words can incite panic in many of us. Will our sweet boy or girl morph into an incomprehensible bundle of hormones and angst? Is trouble inevitable during the adolescent years? What should we expect as our kids grow? According to the latest research, we can anticipate amazing things! To move from panic to peace, however, we need a change of perspective. As we begin to understand the widespread construction taking place in the teenage brain, we can see and relate to our teen in wonderful new ways.
Conveniently organized by what your teen says--things like I'm bored, You just don't understand, Why are you freaking out?, I hate my life, or Hold on, I just have to send this--this book will help you develop a deep compassion for your teen. Rather than seeing the teen years as a time to simply hold on for dear life, Dr. Jeramy and Jerusha Clark show that adolescence can be an amazing season of cultivating creativity, self-awareness, and passion for the things that really matter.
About the Authors
Dr. Jeramy Clark received his Masters of Divinity and Doctorate of Ministry from Talbot Theological Seminary. He served as a youth pastor for 17 years before becoming the Pastor of Discipleship at Emmanuel Faith Community Church. His role includes overseeing Men's and Women's Ministries, Care and Counseling, and Small Groups. Jeramy roasts, brews, and savors coffee of all varieties, plays pickup basketball, is a drummer, and enjoys surfing.
Jerusha Clark co-authored four books with Jeramy, including three bestsellers, prior to launching her own writing and speaking ministry, focused on helping others glorify and enjoy God, one thought at a time. On quiet days, you can find Jerusha body-boarding, reading, or singing around a bonfire at the beach, her absolute favorite place. Jeramy and Jerusha have two amazing teenage daughters and love ministering together at churches, retreats, schools, and conferences.