The Wednesday Bookmark
Details

Category: Authors
Published:

Tuesday, 26 July 2016 07:00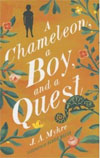 The adventure of a lifetime for ten-year-old Mu, an orphan who has lived his entire life in the heart of Africa. Click here for Care Baldwin's interview with Jennifer Myhre, African missionary and author of "A Chameleon, a Boy, and a Quest" on this week's Best of the Kids Wednesday Bookmark, brought to you by BooksforChrist.com!
Purchase online at BooksforChrist.com.

Ten-year-old Mu, orphaned as a toddler, has lived his entire life in the heart of Africa. For as long as he can remember, he has served in the household of a great-uncle where he is unloved and ignored. In his drudgery-filled life, Mu has little hope of happiness and little hope that anything will ever change. But one day everything does change. On his way to draw water one morning, Mu is astonished when a chameleon greets him by name and announces that they will embark on a quest together. And what a quest it turns out to be! Mu faces danger and finds unexpected allies as they journey through an everchanging landscape. Through his adventure, Mu learns many things about himself. Along with Mu, you will walk through Africa, encountering good and evil. Read carefully and you just may find out who you are too.
For 8-14 year olds
About the Author:
Jennifer Myhre, MD, serves as a doctor with Serge in East Africa where she has worked for over two decades. She is passionate about health care for the poor, training local doctors and nurses, promoting childhood nutrition and development, and being the hands of Jesus in the hardest places. She is married to her best friend and colleague Scott, and together they have raised four children for whom these stories were written as Christmas presents.