The Wednesday Bookmark
Details

Category: Authors
Published:

Tuesday, 21 June 2016 07:00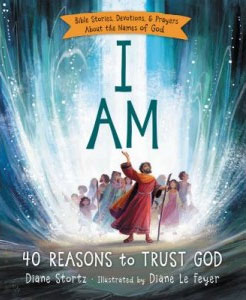 God's names tell us who He is and what He does, so as we learn His names we get to know Him better and can put our trust in Him! (Psalm 9:10 says, "Those who know your name put their trust in you.") Click here for Care Baldwin's interview with Diane Stortz, author of "I Am: 40 Reasons to Trist God" on this week's Kids Wednesday Bookmark, brought to you by BooksforChrist.com!
Purchase online at BooksforChrist.com

Creator, Comforter, Healer, Friend
God's names tell us who He is, what He is like, and what He does. This beautiful book covers 40 of the Bible's many names and descriptive titles for God, Jesus, and the Holy Spirit.
Jehovah Jireh
The Lord My Shepherd
Immanuel
Rabbi
I Am
Through Bible stories, short devotions, and prayers, children discover the meaning of each name and how it relates to their lives. As they develop understanding of God's character and His love for them, children will grow to know, love, and trust the great I Am more and more.
Those who know your name put their trust in you. —Psalm 9:10
Click here for "I Am" colouring pages. Click here for a Free printable chart & matching game.

About the Author
Diane Stortz is an author and former editorial director whose heart's desire is to "tell the next generation about the glorious deeds of the Lord" (Psalm 78:4). Diane's books include Words to Dream On, The Sweetest Story Bible,and A Woman's Guide to Reading the Bible in a Year. Diane and her husband reside in Cincinnati, Ohio, and have two married daughters. Diane enjoys walking, gardening, and visiting her four young grandsons.
dianestortz.com
facebook.com/diane.stortz.books
twitter.com/DianeStortz