Contests
Details

Category: Contests
Published:

Saturday, 19 November 2022 08:33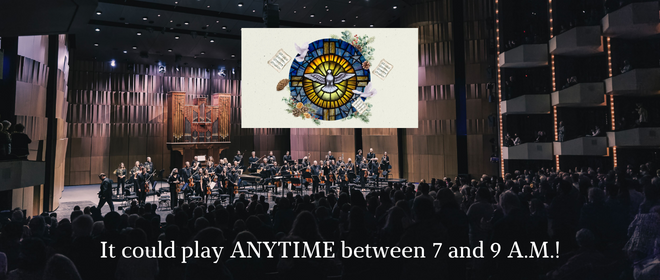 You could win tickets to the NAC Orchestra's performance of Handel's Messiah all week long on the Morning Express!
Under the baton of conductor Patrick Dupré Quigley, the NAC Orchestra is thrilled to perform this holiday masterpiece. Since the opening of the NAC in 1969, Cantata Singers of Ottawa have performed every year with the NAC Orchestra. This holiday season, experience the irresistible joy and mystery of Messiah and feel the wonder and hope few other sacred works can express.
PRIZE: A pair of tickets to Handel's Messiah at the National Arts Centre (1 Elgin St, Ottawa)
(Seats are located in the Orchestra section.)
HOW: All week from November 21st-25th, 2022, listen for the Hallelujah Chorus ANYTIME between 7am and 9am...and we do mean ANYTIME...it may interrupt a song...a commercial break...it may cut Brock off mid-sentence!...ANYTIME...whenever you hear it, be the 9th caller through—at 613-247-1886—to win.
WHEN: Wednesday, December 14th, at 7 P.M.
TICKETS: Tickets range from $17-$79. For more information and to purchase tickets, click here.