Ottawa
Details

Category: Ottawa
Published:

Thursday, 20 September 2007 12:45
The new logo was designed so our frequency is the first thing you see. One glance and you know where to find us, 24/7.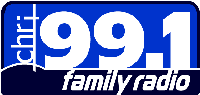 Family Radio is what we are: music for the whole family. What we do is reinforce Christian, faith-based values, with music and spoken word.
We were conceived as Christian Hit Radio Inc (our call letters are "CHRI"). The letters appear vertically on the left side of our new logo creating a cross on a small hill, Calvary. The royal blue stands for "the King", and the darkness below represents the darkness that's all around us in the world today.
The 99.1 (for Ottawa) is pure white and like the small cross on the left, represents hope.

We've had so many positive comments on our new logo we owe a special 'thank you' to Steve Gerecke at ice9.ca Design for using God's wonderful gift of graphic design to bless us with the our new logo! That's right, Steve made a gift of it to Family Radio CHRI and we continue to pray that it will help us reach out to even more listeners.