Blog
Details

Category: Blog
Published:

Monday, 04 November 2013 13:40
This November, millions of Christians worldwide will be united for one cause: to join the global Body of Christ for the International Day of Prayer for the Persecuted (IDOP).    
In 2008 I attended a DTS through Youth With A Mission (what a crazy, amazing experience!). One of the many skills YWAM taught me is the power & privilage of intercession. As Christians we have the ability to stand in the gap of those experience persecution. Our brothers & sisters around the globe experience levels of discremination we cannot even imagine. Last February when I was in India the Pastors I spoke with explained that persectution for them is guaranteed. Stoneings, beatings, burning homes and worse. The one thing each Pastor in India asked for was prayer - "please don't forget about us" "please tell our story" "please pray for our mission". I encourage you to gather a group together, either this Sunday, November 10th or one day this November to pray for Christians around the globe. If you need specific stories to inspire you prayers, click here. We are one family living around the globe & together we are stronger.


In the past 100 years, 35 million Christians have been killed for their faith. The number one thing persecuted Christians ask for is prayer. You are equipped to meet their greatest need!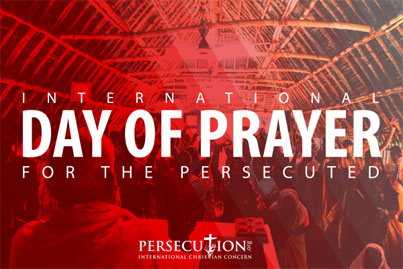 ICC has a free resource kit that includes:
A church resource to build a sermon from, including facts on persecution, FAQs, Bible verses about persecution, next steps to help, and our an ICC petition

PowerPoint of worship songs (both traditional and comtemporary) and corporate prayer points

Bulletin insert explaining IDOP and providing prayer requests from persecuted Christians

Prayer cards

Children's Sunday school lesson

Advertising images to promote your own IDOP
Let them plan your Sunday service. From bulletin inserts, to videos, to prayer requests from the mouths of the persecuted, they have everything you need to engage your congregation on this important day.
Click here to download your resource kit!
**Although the official date of IDOP 2013 is Nov. 10, the date is not listed on materials so that you are free to initiate an IDOP service at your convenience.