Blog
Details

Category: Blog
Published:

Saturday, 07 September 2013 01:00
I was a fan of
Jimmy Needham
from the first time I heard him on CHRI. I like his vocal style and jazzy-soul feel and I was drawn by his openness to share publicly how he and his wife Kelly had three miscarriages before God brought them their precious daughter Lively Elizabeth.
More and more I find I'm having conversations with people about whether or not Hymns should be sung in churches today. The sense I'm getting is that people who were raised in a church either feel a familiarity and comfort when they hear traditional choruses or they feel anger (because they fell away from the church earlier in life for whatever reason) and that new believers find them boring or too unfamiliar. As a worship leader in a "modern church" I feel the balance between the two is to bring hymns to new Christians in a more modern way so they are attracted to the songs and think they're new!


In Jimmy's "The Hymns Sessions, Vol. 1", he does a solid job at bringing traditional hymns to a fresh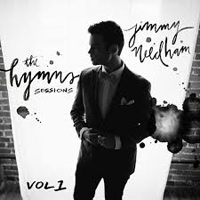 light (rapper Trip Lee appears on a version of "How Great Thou Art"). So why not incorporate both hymns and contemporary worship songs in our services? If we're inspired by albums like these, we can find ways of pleasing both the hymns-lovers and the modern-worshippers together in the name of the God who was and is, and is to come!
"The Hymns Sessions, Vol. 1" comes out Tuesday, September 10th, 2013. (you can preview it here before Tuesday: http://www.newreleasetuesday.com/albumpreview.php )
Before the album comes out, listen back to my interview with Jimmy back in 2010 at the release of "Nightlights" : http://ow.ly/oyTXL