Blog
Details

Category: Blog
Published:

Friday, 08 February 2013 16:35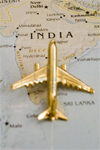 Well my bags are almost packed... On Tuesday I am flying to colourful & warm India for 2 weeks of exploration. I will be visiting some of Gospel for Asia's projects and ministries and am very excited & grateful to be representation the radio station!

The purpose of the trip is to see the incredible work Gospel For Asia is doing in India. We fly into Delhi on February 15th and are also travelling to Mumbai and Kochi. I'm making a quick one day stop in Dallas, Texas before the trip to India to meet up with my fellow travelers & for orientation. Side note: When I was a kid, we use to travel to Texas for Dad's work & I'm looking forward to having some Texas tea, chips & salsa.

Gospel for Asia works with the most vulnerable, needy & often forgotten about people in India. GFA brings hope and restoration through the message of Jesus and relief programs to the Dalit community, widowed women, orphaned or abandoned children and in the many slums of India.
I will be blogging, Tweeting, Instagraming, Youtubing & Facebooking while I'm in India. I would love to have you join me on my journey & for you to join in praying for this trip & Gospel For Asia.

Prayer points:
God would be glorified by EVERY aspect of our trip

The unconditional love of God would radiate in and through each of our lives

God would put a hedge of protection around the entire trip

All participating on this trip would be sensitive to where God is leading

God would give us strength and good health through the trip

God would give wisdom to those speaking and teaching and listening ears to the people we come in contact with during the trip

Divine appointments, both with those we share with as well as other we might encounter while travelling

We would make quick adjustments to time and cultural changes

Unity amongst the group, most people on the trip do not know each other
Follow along!
chri.ca
Twitter.com/CHRIRadio
Facebook.com/CHRIRadio
Instagram.com/CHRIRadio
youtube.com/chriradio
I do not know what's ahead but I pray my adventure allows you to see the beauty & splendour of the God we serve!
Ashley